HELLO!
A Nigerian business executive working globally to support career professionals, entrepreneurs and corporate brands with cutting-edge growth strategies. An under-40 CEO, Amida has over 18 years of professional experience cutting across 4 countries and 12 industries including Telecommunications, FMCG, Healthcare, Investment Banking, Private equity, financial advisory among others.
Until recently, he was the CEO of IHS Rwanda where he led the company to becoming the fastest-growing operations in 13 markets and structured deals to guarantee 3-year worth of double-digit growth. He currently consults for multiple companies including acting as a consulting Chief Growth and Operations Officer for Merit Telecoms in Nigeria.
He is the author of the soon-to-released book, EPE Principle: understanding the opportunity cycle. EPE stands for Enter, Perform and Exit. A graduate of Economics, Amida is an alumnus of the IE Business School, Spain, and a member of the Chartered Institute of Management Accountants (CIMA).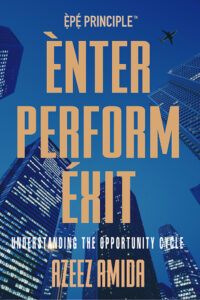 THE EPE PRINCIPLE
Enter, Perform, Exit
Only a tree grows on one spot. You are not a tree. You are human. You were designed to move. From one stage to the other. One phase to another. From time, humans have gone through various stages. Making exploits and reaching new heights. All driven by an opportunity. Opportunity to fill a need.
Receive practical growth nuggets from Azeez Amida